CATS CAN RECEIVE LOVE WHENEVER THEY WANT
With the Corner Massage Cat Brush, cats can brush and massage themselves whenever they want!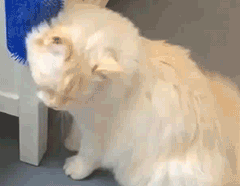 COMFORT AT THEIR CONVENIENCE
You choose the location, your cat chooses the time. The brush is always available for your furry buddies to use as they please.
CATNIP COMPATIBLE
Put catnip into the sides of the brush to attract your cat even more. Massages and catnip combined make the experience even more enjoyable for cats!
EASY INSTALLATION
If you change locations and your cat comes with you, no worries! The Corner Massage Cat Brush can easily be installed or removed (using the adhesive or with screws) into any wall corner at the desired height.
Measurements:
13 x 8.5 x 4.7 cm / 5.1 x 3.3 x 1.9 in
material:plastic
Don't wait! If you want your cat to have their own brushing station, get the
Corner Massage Cat Brush for free while stock lasts
!