CACTUS PLUSH TOY
This cactus is a cute cactus shape toy that is a true dancer and singer. You can play, dance, sing, and can also make duets with them.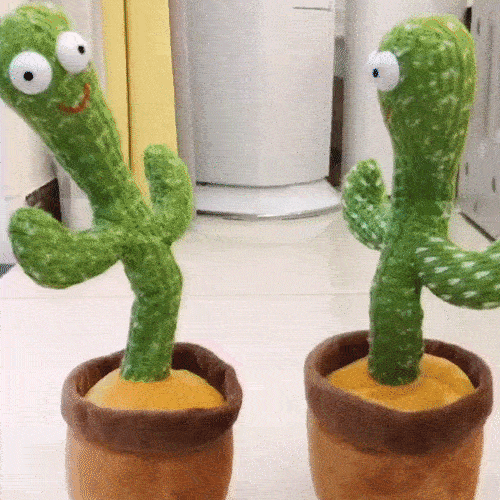 Unique Design
This cactus toy is designed with a cute cactus shape, and the creative design looks great, stimulates children's imagination, and stimulates creativity. The dance machine guides children through a beautiful and interesting childhood.
  Multi-function
 The plush cactus toy, can sing and dance with multiple new themes, has cut expression with the big eye, flexible body, funny dancing, and perfect shape. It can also use as an ornament. Especially it can attract a baby's attention.
Singing and Dancing
Cactus-shaped plush toys can dance, sing, move, and turn around. The toy will dance to songs for a few hours. Bringing the child a happy time in life.
Safe Material
 The plush cactus toy is made of soft material, which is comfortable, safe, and non-toxic. Plush is absolutely safe for children. Fun and cute cactus plush toys that dance, sing, move and give children a happy time.
Features:
Material: the cactus toy uses pp cotton filling material, which is soft and comfortable, safe, and healthy.
Early education: it is good for early education. Toys will jump with the rhythm, which can attract children's attention.
Fun toys: the toys contain 120 English songs, and you can learn to speak and dance for a few hours, which will bring children a lifetime of happy times.
The best gift: cheerful music and dancing are very suitable for creating a pleasant atmosphere and for hosting parties.
Daily maintenance: do not wash in water, avoid high temperatures, and beware of heavy pressure.
Specifications:
Size: 32cm
Filling Material: Pp Cotton
Songs: 120 English Songs
Power Supply: 3 * Aa Batteries (Not Included)