During these unpredictable times in the world, it can be reassuring to have something discreet for personal protection just in case of imminent danger. 
Introducing our Peacemaker Buddha Necklace. Not only does it look stylish, but it can also be used in self-defense as a chain whip or brass knuckles if needed (but hopefully you won't ever have to use it!). You can also keep it in your car as a decoration. Having this might just save your life one day.
Each necklace is handcrafted with durable steel cord and sturdy steel beads to ensure that it's built to last. It's nearly indestructible and can support up to 200 pounds of body weight. 
It's also a good luck charm, as every necklace has been blessed by Buddhist monks. May prosperity and fortune come your way 😁.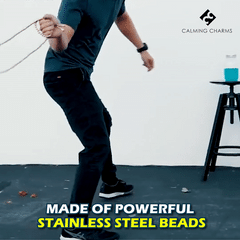 Product details:
Can be worn as a necklace, bracelet, or hung in your car for easy access
Backed by our lifetime warranty
108 beads (Buddhist mala design)

Material: High-grade Stainless Steel / Brass
Weight: 8.8 oz (250 g)
Bead diameter: 8 mm
(Please note that we do not condone violence in any shape or form, this necklace is meant for self-defense purposes only.)
Update: As of now, these necklaces are currently in stock. However, due to increased social media attention, this product is selling extremely fast and we are expecting to be out of stock very shortly. Click ADD TO CART to protect you and your family now before we sell out.