🐶💦Meet The Viral Dog Grooming "Hack"
It's time to step up your grooming game! Let's face it: Giving dogs a good bath can be a tedious and time-consuming task. Especially if your pup tries to escape at every opportunity. The Pup Washer eliminates all the back-breaking work without compromises.
🔥The Fastest Way To Bathe Your FurBaby! (<5 minutes)
The PupJet was designed to simplify your bathing routine, with average bathing session lasting under 5 minutes. Puppy Jet's gentle yet powerful stream of water and foam will remove any stubborn dirt hidden beneath the coat. Just attach, lather and rinse. Make baths much quicker, easier and more effective!
As Easy As One, Two, Three!
1.Attach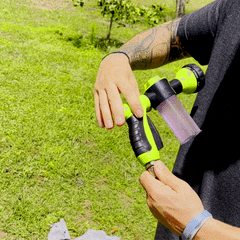 2.Lather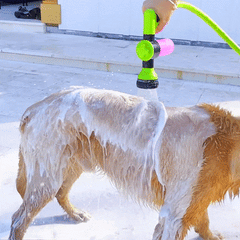 3.Rinse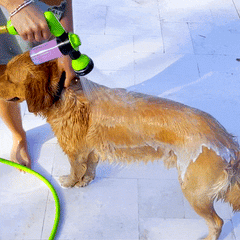 🧼 Integrated Soap Dispenser
Thanks to a soap spraying nozzle, this shower head will remove any stubborn dirt underneath the coat. Mud, poop, sweat, dandruff – it'll vanish right away!
💵Affordable One-Time Cost
PetJet costs less than one 'Wash & Dry' session, which costs upwards of 45US$ on average, and even lesser than one grooming session that costs upwards of 55US$ on average. And, it's a one-time investment, which saves you a ton over the long term!
💗 Made For Sensitive Pups
It's well-known that many dogs would prefer to avoid bath time altogether. The Pet Jet, on the other hand, offers a swift and smooth bathing experience, ensuring your canine companion remains at ease throughout the process.
🚿Clean Down To The Skin
With 2x more pressure than an average hose, 8 dog-tailored spray modes and adjustable soap dilution, the Pup Washer spray penetrates deep into your dog's coat, lifting dirt and grime from the skin and leaving your pup feeling refreshed and clean. Mud, poop, sweat, dandruff – it'll vanish!

How it works ?
The Pup Jet is incredibly easy to use: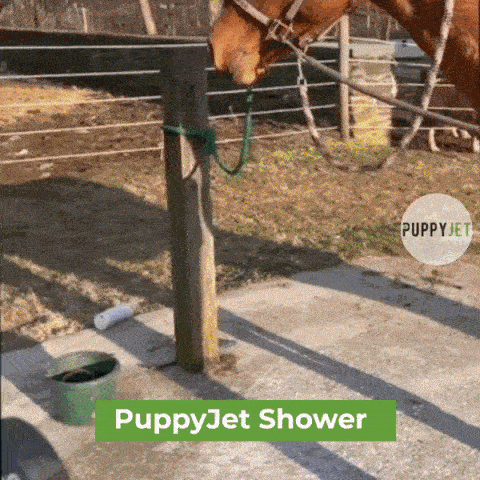 ✅ Groomer Recommended-Dog Approved
 Garnering thousands of 5-star reviews and incredible testimonials, the Pet Jet has emerged as the top choice for streamlining grooming sessions, making them quicker, simpler, and more enjoyable for all involved.
FAQ 
Q: Does it connect to the shower?
Certainly! It includes a supplementary 1/2-inch adapter, compatible with all standard shower hoses. To install, simply detach your shower head, connect the adapter, and attach the Pet Jet.

Q: How do I fit it onto the garden hose?
A: Just remove the black connector and connect the Pet Jet directly to your garden or shower hose, utilizing the provided shower adapter as needed.

Q: Does it work with thick coated dogs
A: With its powerful water pressure and versatile spray modes, the Pet Jet excels in grooming dogs with long, thick fur and double coats, such as Huskies, Golden Retrievers, Newfoundlands, and Bernese Mountain Dogs.

Q: Do i have to constantly push the handle?
A: No! The trigger is designed to automatically lock in position once pressed, ensuring your hand remains comfortable and fatigue-free throughout the process.

Q: How long does the bottle last?
A: The soap container has a capacity of 3.5 oz (100ml) and provides up to 20 minutes of continuous use. On average, this translates to 2-3 grooming sessions.


#Pupjet #ScrublessWasher